Bug

Hello,
Every time I try to start the game, I see the splash screen, and then nothing happens. No loading bar etc.  I have previously played the game on this PC with no issues, and reinstalled to try the new patch.  
UPDATE: I had the splash screen up while writing this bug report.  When I was almost done (after about 15 mins) the game finally started.  I checked the graphics and sound options and quit.  It did not load faster the second time, still waiting for it to load.  I am not going to play a game that takes 15 min to start up.  Until it finally loaded the first time I had no output_log.txt
I do have AVG, the latest version, but created an exception for WTFO.exe and WTFOGame.exe just in case.  I don't have a USB headset that was plugged in, although I did have a Yeti mic that has a speaker (not wireless) but I unplugged that just in case.
I have verified the files in Steam, and reinstalled the game, and re-verified.
I have an Nvidia graphics card with the latest drivers, and there is no onboard graphics card.  I am running Windows 10.
I have the following c++ redist installed: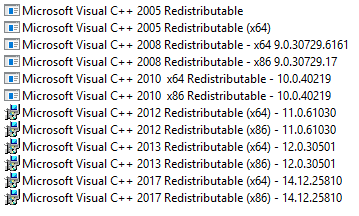 War for the Overworld Launcher Log.txt

Thank you
Game Version:
Steam Public